The DeBartolo Family Foundation's philanthropic efforts are driven by the members of the DeBartolo family, and rooted in the strong family values that have helped them not just find success in business, but leave a lasting impact on communities and the people within them. They work diligently to actively support the Foundation on a daily basis, and contribute to philanthropic causes around the United States.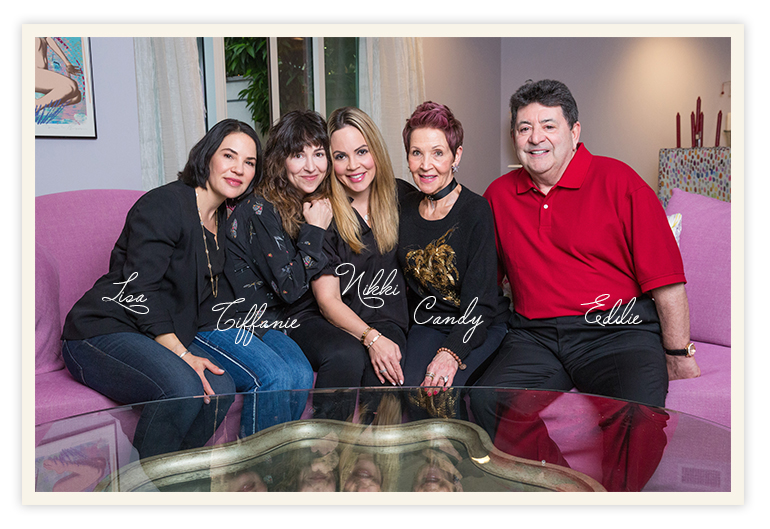 EDWARD J. DEBARTOLO, JR.
Founder and Chief Executive Officer, DeBartolo Holdings, LLC
From Edward J. DeBartolo Jr.'s Hall of Fame tenure as owner of the San Francisco 49ers, to successful real estate investments, to impactful philanthropic efforts, a desire to bring the feeling of family to those around him has impacted his every decision. He has served on the boards of multiple non-profit organizations, including the Tampa Bay American Cancer Society, the Cleveland Clinic Foundation, and currently, the Moffitt Cancer Center–which holds a special place in his heart as his beloved wife, Candy, is a cancer survivor. His dedication has transformed the lives of countless students, families, athletes, animals and disabled citizens beyond the Tampa Bay community.
CANDY DEBARTOLO
Owner, Sacred Pepper
Candy DeBartolo has always loved the idea of coming together around a great meal. So, when she moved to North Tampa from Ohio to find herself surrounded mostly by generic chain restaurants, she set out to fulfill a life-long dream of bringing people together around something that has always united people: food. Candy created Sacred Pepper to not only offer deliciously bold twists on old favorites in a welcoming atmosphere, but also to offer a helping hand. The restaurant supports the community and charities closest to her heart by hosting several charity events, including a Celebrity Bartender Night Benefiting the Marine Corps Scholarship Fund. She values the real difference that charities can make in the lives of veterans and is glad that Sacred Pepper can be a place that the community can call their own.
LISA DEBARTOLO
Chief Executive Officer, DeBartolo Family Foundation
Family is everything to Lisa DeBartolo. Not just her husband Don, sons Milo and Jasper, and their two dogs, but also her extended family — the community she calls home. As a resident of Tampa Bay, and the Chief Executive Officer of the DeBartolo Family Foundation, her efforts to strengthen the community and create meaningful impact in the lives of the area's most underserved populations, have been a personal and lifelong passion. Decades of philanthropic experience, spanning work with the DeBartolo Family Foundation, the San Francisco 49ers, PETA, the Boys & Girls Club, and many other organizations, have continually reinforced her desire to ensure that our local families, children, veterans and animals are valued and cared for with the utmost compassion. Lisa doesn't just support the DeBartolo Family Foundation's mission, she lives it every day.
NIKKI DEBARTOLO
Executive Vice President, DeBartolo Holdings, LLC
Nikki DeBartolo knows first-hand the impact a strong and loving family can have on an individual. Growing up with these values, she is humbled to now be in a position where she can help strengthen the families in our community. As Executive Vice President of DeBartolo Holdings and the DeBartolo Family Foundation, Nikki has made it her mission to give back to her community in every way possible, from supporting local grassroots movements to national charities. She has helped support Metropolitan Ministries, Meals on Wheels, The Boys and Girls Club, The Humane Society of Tampa Bay, and the HCSO Freddie Solomon Christmas Event. She is proud of the accomplishments that the DeBartolo Family Foundation has been able to share with nonprofits and enjoys when those moments come to life, making the Tampa Bay community – where she lives with her husband, Chad Chronister, who serves as Hillsborough County's Sheriff, son, Asher and their two dogs – feel more like a family.
TIFFANIE DEBARTOLO
Chief Executive Super Goddess, Bright Antenna Records
Tiffanie is the co-founder of Bright Antenna Records and the ShineMaker Foundation, as well as the author of three novels (Sorrow, God-Shaped Hole, and How To Kill a Rock Star) one graphic novel (Grace) and the film Dream For An Insomniac. In her spare time she is a traveler, poet, chef, yogi, runner, hiker, biker, sister, friend, lover, dreamer and style icon. U2 has been her favorite band for almost four decades and she swears that everything she knows about life, love, faith, hope and philanthropy, she learned from Bono. Tiffanie's first foray into nonprofit work goes back to her early childhood, when she joined Amnesty International and Greenpeace in seventh grade, and her philanthropic work runs the gamit to include human rights, women's rights, education, animal welfare, and the preservation of the environment.