The DeBartolo Family Foundation is dedicated to helping the youth in our community. Every student's story is different and the Foundation is committed to helping students achieve their dream of attending college.
The DeBartolo Family Foundation scholarship program was created to recognize Tampa Bay area high school graduating seniors who have achieved academic excellence despite obstacles and are dedicated to continuing their education. A one-time scholarship award is given to students prior to the start of their freshman year of college and can be used for any college-related expenses.
To qualify for a DeBartolo Family Foundation scholarship, all applicants must be a current high school senior in Hillsborough, Pasco, Pinellas or Polk Counties and must have plans to continue his/her education at a University, Community College or Technical School starting in summer or fall after your graduation.
Our application will be posted in late Fall and due April 1 of your graduating year. Applicants will be notified by mail with the status of their application.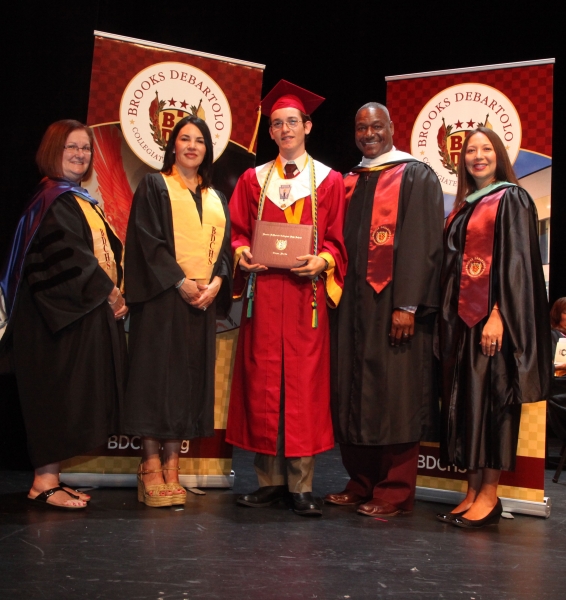 The DeBartolo Family Foundation awarded Brooks DeBartolo Collegiate High School Valedictorian Paul Fernandez with a college scholarship.
In 2007, the DeBartolo family partnered with Tampa Bay Buccaneers Pro Football Hall of Famer Derrick Brooks and co-founded Brooks DeBartolo Collegiate High School (BDCHS), a high-performing, "A"-rated charter high school in Hillsborough County. The school has received 10 consecutive A grades from the Florida Department of Education, and was given the National Blue Ribbon School of Excellence award in 2015 by the U.S. Department of Education.

With lots of gratitude for this generous support, I am able to say I will be the first in my family to attend college and the first with plans to be a nurse. …Thanks to your help, my lifelong dream is becoming more achievable and I am less worried about carrying financial burden.
- Noemi Hernandez, 2019 DeBartolo Family Foundation Scholarship Recipient
The DeBartolo Family Foundation Valedictorian scholarship has been immensely helpful for paying for my laboratory fees and university expenses. It was a blessing to get such an amazing gift for my accomplishment and it will continue to help me as I continue my path as a pre-medical student with aspirations to become a psychiatrist and help individuals with depression.
- Chandler Carr, Class of 2018 Valedictorian, Brooks DeBartolo Collegiate High School